I went to locate any permits that may have been issued in the past ten years for our house's past repairs and renovations. I'm waiting to hear back from the city.
Thanks to technology, I can keep a photographic record of the work we're doing to the house.
Looking down the hill of the North side of the house, you can see someone put in railroad toes to keep erosion down. Now they're rotted out termite-y tripping hazards. We're to remove them, and properly bank the earth do water will roll away from the house.
Above right is where we found a large nest of ground bees. We made them move out. I haven't seen them in about a week.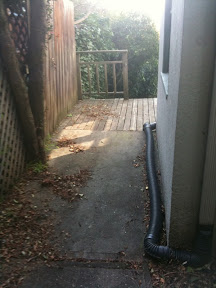 The elephant tubing will be buried once we get to making proper drainage around the house.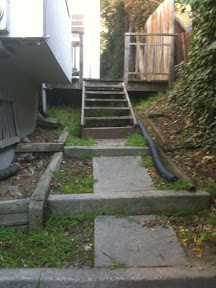 Looking uphill on the south side of the house were to do the same. In addition to replacing rotted wood under the deck. With some sweat and digging, we're going to make a French drain along this side if the house.
Finally, this week I will be regrouting the shower/tub surround as well as refreshing the grout on the floor tiles.
Being strong and handy has it's benefits.