Today I went back to the Permit Center in the City if Oakland. I spent five-hundred some-odd-dollars on a permit that encompasses all water damage and dry rot repairs inside and outside the house. Another permit for the electical to install a $5 switch in our breaker panel (which the permit cost over a hundred and fifty dollars for.) Lastly, the plumbing repairs permit for leaks and toilets.
I wasn't happy with the whole transaction because the lady behind the desk did NOT read my fix-it list thouroughly enough, then, after I paid at the window, I returned to pick up my sign-off permit card- to discover the woman took off to get coffee!!!!! So, after she realized she'd forgotten about me, she had to print my card twice. By now I knew I was over my meter time and was going to get a parking ticket...and when I ran up to my car, the meter maid was just about to start my ticket. I said, "Hi, sorry. The lady at the permit center forgot me and went on her coffee break- that's why I'm late." I showed her my reciept, and she was nice enough to not give me a $55 parking ticket after I'd just spent so much for permits. Let the love shine on her! :)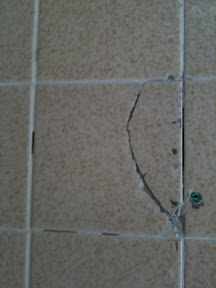 After over-doing it and forcing myself to take a week off from grout raking and removal duty, I went back at it after two chiropactic visits, one acupuncture visit, and two highly productive deep tissue massages. Today I've begun isolating the broken tile in the shower for removal. Our HUD inspector is due for a visit Friday to help with our Draw Request.
Now I need to schedule a plumbing permit inspection. Argh!