Okay, so, I managed to remove the dryrotten window sill. As I said, Nothing pretty, and I'll have some patch repairing to do inside.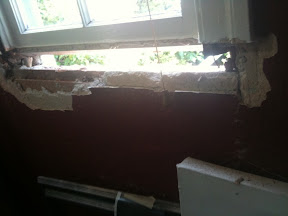 The main reason this window was so problematic is that it's a fixed window. Not meant to open or close. So I had to chip out the sill from under the window. After I lost my patience after TWO HOURS I forced it out. Then pulled the remainder out from the inside.
It obviously was changed out years later, as there are still weights left behind from the old window.